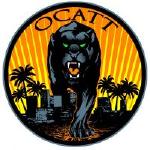 ORANGE COUNTY AUTO THEFT TASK FORCE
A Multijursidictional Law Enforcement Program
---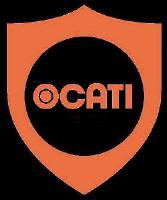 Orange County Auto Theft Investigators Association
---

The Orange County Auto Theft Investigators (OCATI) Association meets on the first Thursday of each month, unless it is a holiday or some special circumstance, at 10:00 a.m.
The meetings are for auto theft detectives, insurance company special investigators, vehicle leasing loss prevention agents, and other people involved in the investigation, recovery, and prevention of vehicle thefts. Investigators from inside and outside Orange County attend the meetings to share information about current cases, suspects, and auto theft trends.
The January 5, 2017 OCATI meeting will be the usual round table discussion, including training. The Guest Speaker will be Orange County District Attorney's Office / OCATT Deputy District Attorney Dan Hess. Dan will be giving a presentation on "Vehicle Theft, Fraud, Case Presentation, and Filings."
There is a $5.00 fee per meeting. ($10.00 for December)
If you wish to be placed on an email mailing list for notifications/reminders regarding the OCATI meetings, please Click Here.
The OCATI Roster is available to OCATI members as an Adobe .pdf download from the website to assist with your networking needs. The roster consists of OCATI meeting attendees. The roster is a password protected .pdf file, about 55 kb in size (last updated 12/02/16). The password was last given to the attendees at the 12/01/16 meeting. If you do not know the password or wish to have your information updated on the roster, please contact the Webmaster with your name, agency, telephone number, and email address. Click here to go to the roster.

---
MONTHLY MEETING LOCATION:
Garden Grove Courtyard Center
12732 Main Street, Garden Grove, CA 92840
(714) 741-5704
(Click Here for Mapquest Map)
---
CURRENT OCATI OFFICERS (2017)
| | | | |
| --- | --- | --- | --- |
| Position | Name / click for email | Agency | Telephone |
| President | Mike Stefanoff | CHP / OCATT | (714) 231-8068 |
| Vice President | Randy McWilliams | Placentia PD / OCATT | (714) 231-5795 |
| Secretary | Betty Ashley | Wells Fargo Dealer Services | (949) 923-1332 |
| Past President | Mick O'Neill | Hagerty Insurance SIU | (213) 400-1030 |
---
2016 Training Presentations at OCATI Meetings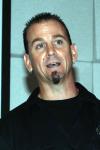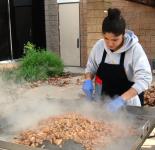 The Guest Speaker at the December 2016 OCATI Meeting was Investigator Jim Eberhart from the CHP / Orange County Auto Theft Task Force. Jim gave a presentation on "Vehicle Theft Statistical Overview for California and Orange County (Specifically)." The 2017 OCATI Officers were introduced: Mike Steffanoff (President), Randy McWilliams (Vice President), Betty Ashley (Secretary), and Mick O'Neill (Past President). This meeting was also our annual Holiday Party. A catered luncheon prepared by Tacos El Mexicano was served after the meeting. There was plenty of food available to the attendees.
---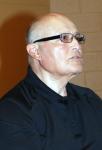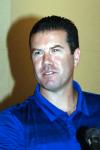 The Guest Speakers at the November 2016 OCATI meeting were Avis Car Rental Security Director Ernie Duran who discussed Avis Budget Car Rental issues and Avis Car Rental Security Manager Jeff Myers, who discussed Avis Zipcar Rental issues. It was a very informative training session with both Ernie and Jeff answering a multitude of questions from the attendees.
---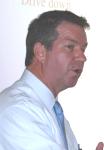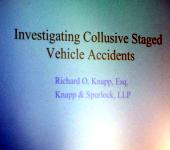 The Guest Speaker at the October 2016 OCATI Meeting was Richard Knapp, Knapp & Spurlock, LLP. Richard gave a presentation on Investigating Collusive Staged Vehicle Accidents, citing the reasons behind the crime, the different methods used, the red flags to look for, and some of the recent cases he has been involved in.
---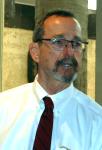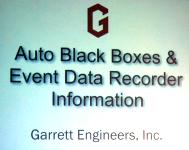 The Guest Speaker at the September 2016 OCATI Meeting was Doug Garrett of Garrett Engineering. Doug gave a presentation about Black Box / EDR technologies and data retrieval / interpretation. Doug was able to provide information that was currently available to law enforcement and SIU personnel. Airbags can be a great source of information...
---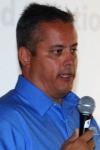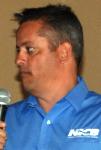 The Guest Speaker at the August 2016 OCATI Meeting was Special Agent Jay Rocker from the National Insurance Crime Bureau / Orange County Auto Theft Task Force. Jay gave a presentation about NICB and how NICB can help law enforcement and insurance companies in their vehicle theft investigations. Jay also provided handout material from NICB, including NICB Passenger Manuals, NICB Vehicle Theft / Fraud Guides, the latest stats available from NICB, and upcoming training provided by NICB.
---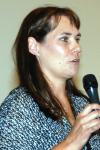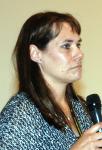 The Guest Speaker at the July 2016 OCATI Meeting was Senior Forensic Specialist Kelli Cogert from the Orange County Sheriff's Department Crime Lab. Kelli spoke about the Crime Lab, its functions, and available forensics services. There appeared to be a great deal of interest from the attendees about DNA collection and fingerprinting of recovered vehicles.
---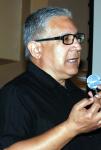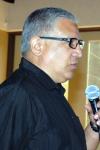 The Guest Speaker at the June 2016 OCATI Meeting was Dennis Frias, Locator Technologies / VINMonitor. Dennis gave a presentation on "LPR Usage Update for Insurance SIU and Law Enforcement ." Dennis' presentation touched on the similarities and differences of usage by law enforcement and private industry. Dennis definitely covered some of the restrictions of usage and requirements regarding retention of databases.
---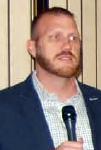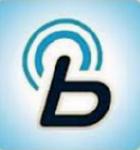 The Guest Speaker at the May 2016 OCATI Meeting was Larry Perrault, Sr. Manager, Hyundai Connected Car Program and Product Management. Larry gave a presentation on the capabilities of their Blue Link system, specifically about assisting LE & insurance with theft recovery/tracking. Garden Grove Police Sergeant Ron Echavarria also gave an overview of auto theft issues in Garden Grove.
---
The Guest Speaker at the April 2016 OCATI Meeting was Captain Randy Stover, LASD / TaskForce for Regional AutoTheft Prevention, who made a presentation on the recent Task Force Symposium that took place in March. Randy spoke about the networking that occurred, allowing for the personnel from multiple task forces to have the opportunity to get to know one another and what problems other task forces were encountering. He said it was also an opportunity for some important legal updates to be shared. He said that LASD / TaskForce for Regional AutoTheft Prevention Crime Analyst Maria Ferreira had the opportunity to share information. Randy then had Maria come up to show some of the auto theft data she was able to retrieve. Randy wanted to make it clear that they are willing to share their information with others, law enforcement and insurance SIU personnel.
---
The Guest Speaker at the March 2016 OCATI meeting was from the CHP Border Division Cargo Theft Interdiction Program (CTIP). Investigator Jim Kelley made a presentation related to Cargo Theft crimes and the CHP program dedicated to this. Jim clearly defined cargo theft, where it is taking place, and what is done to combat it by CTIP and other law enforcement programs in California.
---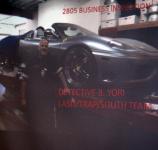 The Guest Speaker at the February 2016 OCATI meeting was LAPD / TaskForce for Regional AutoTheft Prevention Detective Brian Yori, who gave a presentation on VC 2805 Business Inspections. Brian explained what can and can't be done during an inspection and the difference between a business inspection and a search warrant service.
---
The guest speaker at the January 2016 OCATI meeting was Dan Hess, Orange County District Attorney's Office Deputy District Attorney, assigned to OCATT. Dan gave a presentation on Vehicle Theft, Fraud, Case Presentation, and Filings. He showed how Proposition 47 is affecting how some cases are being filed and what it now takes to make a good case to put someone in prison.
---
For prior OCATI Meeting Training Presentations, please click here
---