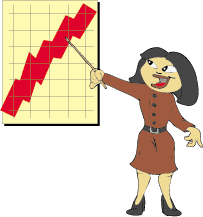 In calendar year 1993, California led the nation with 313,804 vehicle thefts, or 21% of the national total. Southern California accounted for more than 62% of the state's total. Orange County accounted for 10.4% of the 62%, or 20,145 vehicles stolen. The loss to Orange County victims and insurance companies was over $100,000,000.00.
In calendar year 2018, 251 vehicles were successfully recovered by OCATT personnel worth an estimated $4,084,762. The average value of the vehicles they recovered was $16,273. OCATT detectives made 69 physical arrests of vehicle theft suspects during 2018. Additionally, OCATT detectives initiated 309 criminal investigations, conducted 8 business inspections and inspected over 1,114 vehicles. OCATT detectives assisted allied agency personnel make an additional 34 arrests during the same time period.
In June 2018, the Orange County Auto Theft TaskForce (OCATT) completed its twenty-fifth year of operation, combating the incidence of auto theft by professional criminals in Orange County and throughout the southern California region.
During the 25+ year period June 1993 - December 2018, OCATT investigators arrested 1,438 suspects involved in the theft, renumbering or otherwise disguising, and sale of stolen motor vehicles. Investigators also recovered over 6,133 motor vehicles with a value of approximately $96.83 million.
The mode of thefts of automobiles has also changed during the past twenty-five years. In 1993, when the Task Force began, it was common for the professional auto thief to be a one or two man operation. The same suspects would steal the vehicle(s), change the Vehicle Identification Number (VIN) and arrange for the vehicles' disposition. Often times, OCATT investigators would break up a 20-car ring and only arrest a couple of individuals. Today, as in society, everyone is a specialist. In the auto theft world, now one or a crew of individuals steal the automobile, others renumber it, others arrange false paperwork, and still someone else arranges the sale of the stolen vehicle to innocent purchasers. Theft by fraud and insurance fraud has also become more prevalent in recent years.
The advancements in technology over the past twenty-five years have not gone unnoticed by the professional auto thief. Today, auto thieves are using the Internet and other computer sources to create false identities or obtain information on real citizens and commit identity theft. These innocent parties' identities are used to purchase new vehicles, rent vehicles and register stolen vehicles.
The Orange County District Attorney's Office provides one dedicated full-time Deputy District Attorney who is assigned to the task force. The attorney is committed to aggressively prosecuting the professional vehicle thief and those who commit insurance fraud that the task force has targeted. The use of "straight lined," "vertical" prosecution has proven highly successful.
As the professional criminals' tools and modus operandi change, OCATT continues to change and develop new tools and training to pursue and apprehend the professional auto theft criminal.
Orange County Auto Thefts
Calendar Years 1993 - 2018
Year

Orange County
Population

Licensed Drivers
in Orange County

Vehicle Registrations
in Orange County

Vehicle Thefts
in Orange County

Increase /
Decrease
in Thefts

1993
2,576,000
1,803,300
1,890,556
20,145
1234
1994
2,615,300
1,800,500
1,876,575
19,196
- 4.7%
1995
2,614,800
1,701,400
1,914,625
16,788
- 12.5%

1996

2,649,800

1,810,600

1,957,200

13,822

- 17.6%

1997

2,705,300

1,828,300

1,881,148

12,137

- 12.6%

1998

2,763,900

1,854,000

2,015,296

10,884

- 10.3%

1999

2,813,700

1,877,651

2,051,569

9,673

- 11.1%

2000

2,893,100

1,905,170

2,125,552

9,847

+ 1.8%

2001

2,925,200

1,945,258

2,178,313

11,139

+ 13.1%

2002

2,939,500

1,988,664

2,247,656

10,842

- 2.7%

2003
2,978,800

1,987,180

2,238,415

11,256

+ 3.8%

2004

3,017,300

1,981,373

2,523,852

12,508

+11.1%

2005

3,056,865

1,983,385

2,504,202

13,360

+6.5%

2006
3,071,924
1,998,855
2,545,849
10,987

-17.8%

2007

3,098,121

2,024,425

2,541,604

9,501

-13.5%

2008

3,107,500

2,025,409

2,526,427

7,633

-19.6%

2009

3,090,688

2,023,150

2,509,262

6,442

-15.6%

2010

3,010,232

2,034,001

2,520,474

6,356

-1.3%

2011

3,055,745

2,050,085

2,519,055

6,344

-0.2%

2012

3,090,132

2,081,856

2,539,664

7,494

+18.1%

2013

3,114,363

2,114,849

2,617,320

7,639

+1.9%

2014

3,145,515

2,145,701

2,715,617

6,624

-13.3%

2015

3,169,776

2,223,795

2,831,850

9,148

+38.1%

2016

3,194,024

2,274,825

2,901,123

8,752

-4.3%

2017
3,221,103
2,314,558
2,885,494
8,882
+1.5%
2018
3,222,498
2,330,088
2,915,468
7,961
-11.4%
Above Statistics based on California Highway Patrol VTIS Reports, DMV Information, and California Department of Finance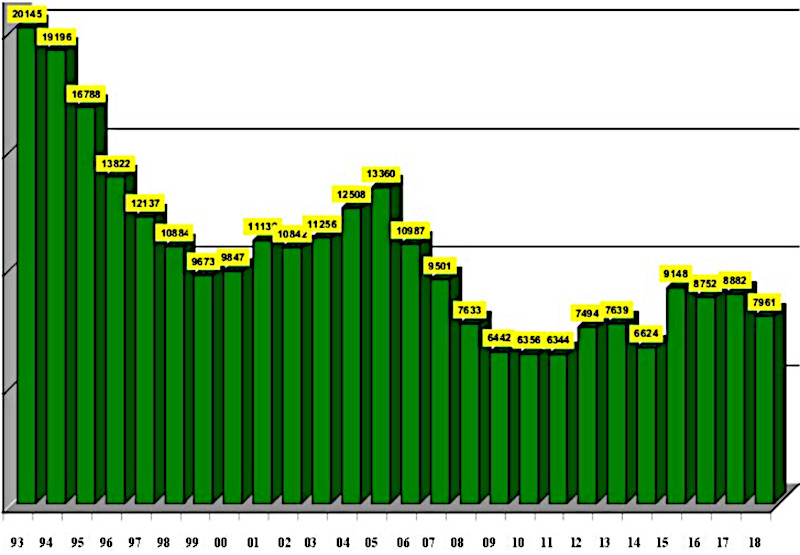 TOP TEN CARS STOLEN IN ORANGE COUNTY IN 2018
TOP TEN CARS STOLEN IN CALIFORNIA IN 2018
TOP TEN CARS STOLEN IN THE UNITED STATES IN 2017